Home Buying In-Person Course
Home Buyer Education Course: HUD Certified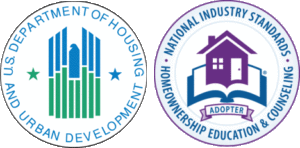 CHES, Inc. is proud to be designated as a HUD (Department of Housing & Urban Development) Approved Housing Counseling Agency.  CHES, Inc. is highly regarded as a quality provider of HUD Approved Home Buyer & Home Ownership Education to area individuals and families.
CHES, Inc. is also an approved adopter of The National Industry Standards for Home Ownership Education & Counseling which holds us to the highest standards of excellence, and insures that you will receive the most up-to-date information available in the metropolitan area.
We believe you should have choices when it comes to shopping for financing and protecting your home, so we've developed partnerships with numerous Realtors®, Banks & Mortgage Companies, Insurance Providers, and Home Inspection Professionals who are committed to providing you with the best information, products and services available…right here, all in one place.  Plus, our counselors will help to determine affordability, and if you're eligible for down payment assistance programs.
Our HUD Approved Home Buyer Education Course includes a confidential one on one home ownership counseling meeting with one of our HUD Certified Advisers.

Introduction to Owning a Home:
Advantages of owning a home.
What is necessary to buy a home?  Mortgage payments & other costs.
Taking the next step towards homeownership.
Money Management:
Set goals & create a spending plan to meet those goals.
Trim expenses & find ways to save.
How to manage debt & increase savings.
Understanding Credit / Obtaining a Mortgage Loan:
Credit reports & scoring; how to read your credit report.
How a lender determines mortgage loan eligibility.
Calculating how much you can borrow.
Types of mortgage products.
The loan application & approval process.
Shopping for a Home:
The homebuying team (those involved in the process).
Locating the right house to meet your wants and needs.
Negotiating the best deal.
Events from contract to closing.
Closing Process & Protecting Your Investment after the Purchase:
What happens at closing, what do I need to know?
How to make your home safe, energy efficient & keep it in good repair.
Getting involved in your neighborhood and community.
Keeping records and understanding taxes involved with homeownership.
Protecting equity; when to consider refinancing.
What to do if you cannot make your payments.
Certifications & Experience
CHES, Inc. Advisers are NeighborWorks Certified in Foreclosure Prevention, Financial & Credit Management, Education & Counseling, HUD Approved Homebuyer & Homeownership Education (including Pre & Post Purchase). Additionally, each Adviser has a background in real estate,  responsible lending, and business & financial management.
Commitment to Excellence
CHES, Inc. is HUD Certified, and an adopter of The National Industry Standards for Homeownership Education & Counseling and The National Loan Modification Scam Alert Campaign. Each CHES, Inc. Adviser is committed to the National Industry Code of Ethics and Conduct for Homeownership Professionals. We are committed to providing excellence and measurable results to those we serve.
Call CHES, Inc. Today to Begin Improving Your Finances.
Financial Freedom…It's Your Move!
1.816.533.7417